What a world full of wonders our beautiful Earth is. Featuring such a wide list of attractions, like long lost cities, stunning geological formations, unique architecture, and unbelievable natural wonders, there is no wonder sometimes it is difficult to make a choice where to travel next, and of course, there are places that simply stay out of our radars for some or another reason.

This article sums up a list of magical, unbelievable locations that are difficult to believe that exist in real life, and yet, they are real and waiting on you to discover them.

The Crooked Forest in Szczecin, Poland
Boasting a group of 400 pine trees, growing at a 90-degree angle from the root, all with the same haunting bend, the forest represents a must-explore attraction in the country. The reason standing behind the bizarre shape of the pines is said to be a gravitational pull within the area.
2.  Hitachi Seaside Park in Ibaraki, Japan
With a wide diversity of green areas, seasonal flowers, and cycling trails extended all over 350 hectares, the park is among the must-see national parks in Japan. Hitachi will amaze you with its iconic blue nemophila flower, which is at its peak from late April to mid-May.
3.  Salar de Uyuni in Bolivia
Considered one of the most intense and outstanding vistas in the entire country and extending for about 4,050 square miles, Salar de Uyuni is the largest salt lake in the world. It was formed 25,000 to 10,000 years ago, leaving behind hexagonal patterns of salt.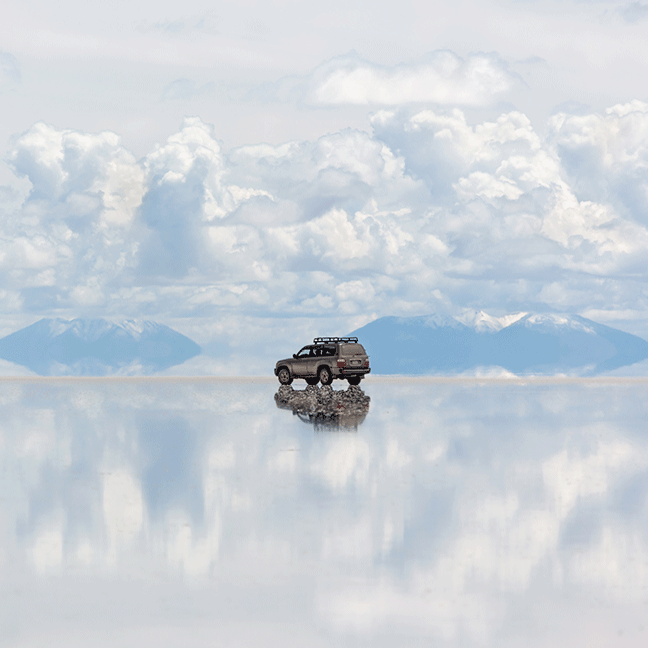 4.  Kawachi Fuji Garden in Kitakyushu, Japan
Hosting approximately 150 wisteria flower plants of 20 different kinds and a sensational wisteria tunnel, with hanging flowers of various colors, the garden is a unique experience to try at least once in a lifetime. Taking a photo under the tunnel is a must!
5.  Kuang Si Falls in Luang Prabang, Laos   ​
The trip to Kuang Si begins with multiple small cascades falling into the little pools around, but the gem of the location is still the big waterfall with pale turquoise blue water tumbling from the jungle above.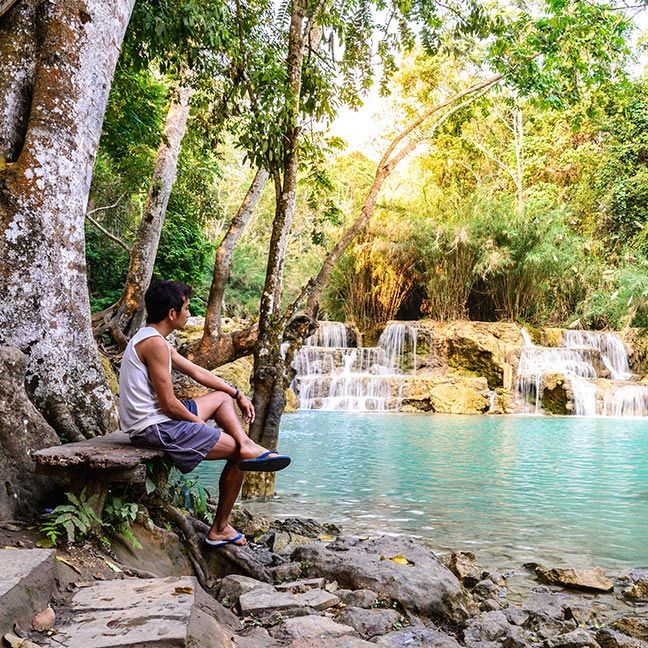 6.  Jiuzhaigou National Park in Sichuan, China
Standing 450 kilometers to the north of Chengdu, the park combines blue lakes, waterfalls, and forests, as well as a 1375-meter-long crystal blue lake, a true masterpiece of nature.
7.  Las Lajas Sanctuary in Ipiales, Colombia
Thought to be among the most beautiful churches in Colombia, and even named as the most beautiful in the world back in 2015, this tiny basilica standing 130 feet tall over the Guáitara river is 100% bucket-list worthy.
8.  Mount Sanqingshan National Park, in Jiujiang, China
Known for its remarkable scenic quality, with 48 granite peaks and 89 granite pillars that were significantly shaped by mother nature, the national park boasts incredible panoramas worth admiring.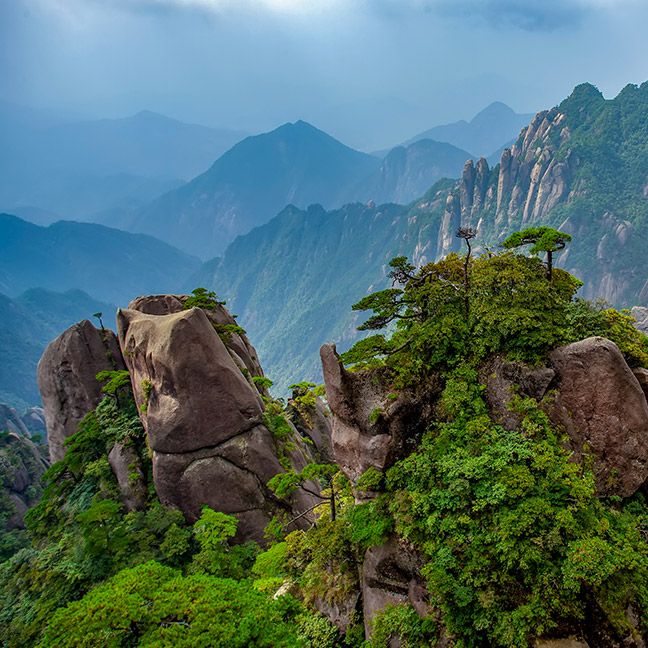 9.  Ice Cave, at Mutnovsky Volcano, Russia
The ice cave covers a surface of approximately one kilometer and was formed by a hot water spring running underneath the glacial ice fields. The glaciers here have been melting throughout the latest period; hence, the roof is so thin that sunlight permeates through it.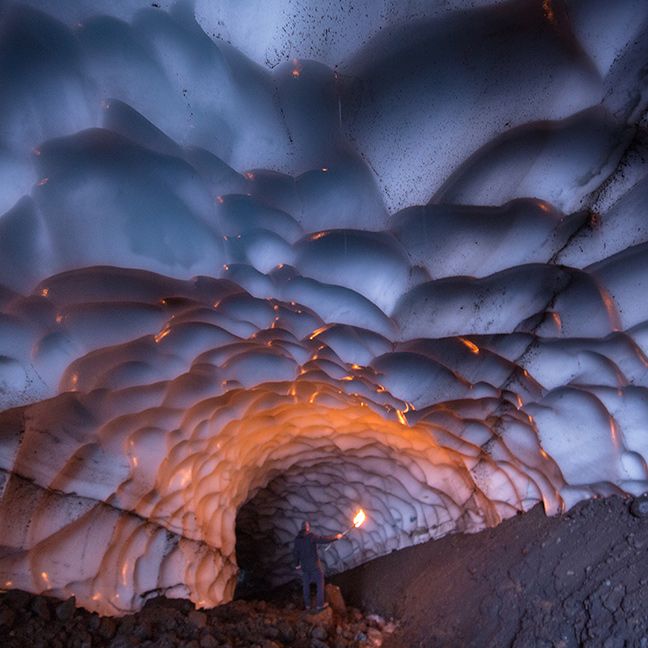 10.  The Uros Islands, at Lake Titicaca, Peru
These floating islands were completely man-made and are the home of the Uros tribe, the one which existed even before the Incan civilization. Till now, about 70 small islands have been created from cubes of earth put together.
11.  Zhangye National Geopark, in Gansu, China
The multicolored mountains that imitate a painted rainbow represent the pearl of the location. Also called the rainbow mountains, the attraction was created 540 million years ago when due to the tectonic plate collision, the land folded and created mountains.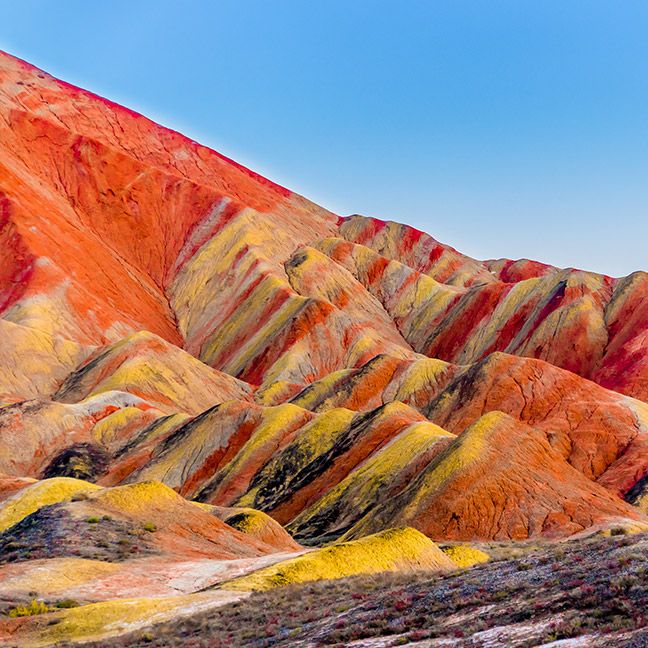 12.  The Richat Structure, in Ouadane, Mauritania
Standing in the middle of the Sahara desert, the attraction is also called the "Eye of Africa'' due to its similarity with a bull's-eye when observed from space. Previously, the Richat Structure was considered an impact crater due to its circularity and unusual form.
13.  Darvaza Gas Crater, in Derweze, Turkmenistan
Created by accident in 1971, when a Soviet drilling rig kicked a vast underground natural gas cavern by mistake, making it and the entire drilling rig fall, the Gates of Hell is a beautiful yet dreadful site to explore.
The world is full of wonders and mesmerizing spots to explore; the ones listed above are just a small part of it. Make sure to add your favorites to your bucket list, and go see them with your own eyes while on your next vacation.

"Fly multi-city for less" - Check our international flight options from the United States
"Fly multi-city for less" - Check our international flight options from the United States
See prices