Taking economy flights may seem an exasperating idea since talks are circulating that economy seats might be the most uncomfortable thing when it comes to travel. But are these statements reliable? Perhaps, you have been traveling the world in economy class seats for your entire life and might know everything about the seat width, legroom, and other features economy seats are offering. Nonetheless, not everyone knows what a good airline seat pitch is or how economy seats' features are ranging from airline to airline.
Airflyby Team is ready to shed light on the topic so you can compare diverse economy class seats in various airlines. Some perks that you didn't know yet will be listed, so read on to find out something new about world-famous airlines and the characteristics of the economy seats they are providing.
Economy Class Seats' Features on the Best Rated Airlines
1. Japan Airlines Economy Seats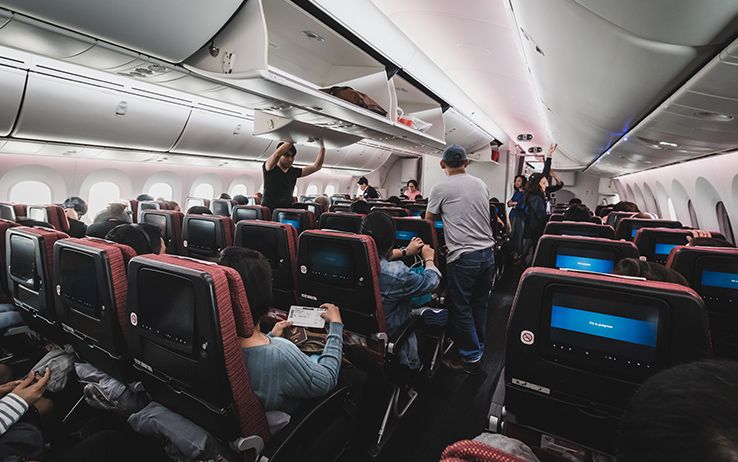 Find below a video which shows JAL Economy Class in action. Incredible features for the lowest of flight classes!
Japan Airlines seats in economy class measure about 17.5 inches. That is for most of the aircraft they are operating. But to get the best of your air ride with Japan Airlines, you should book a JAL SKY WIDER seat whose width is up to 18.9 inches. What's more, you get an increased seat pitch which measures up to 33.8 inches (compared to the standard 31 inches long seat pitch).
2. Cathay Pacific Economy Class Seats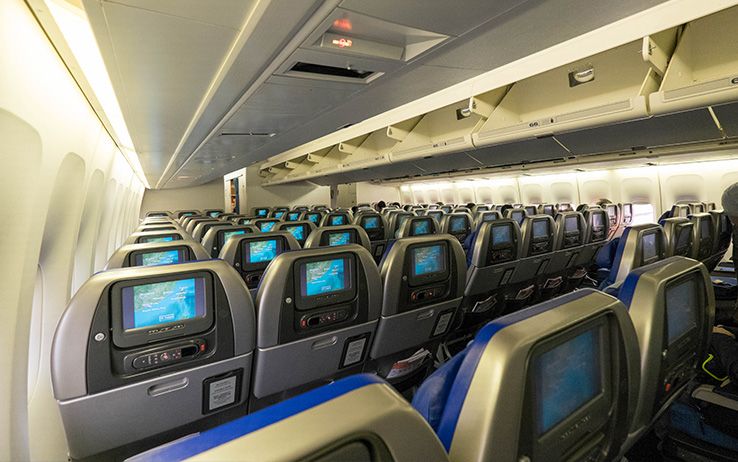 Pick Cathay Pacific when flying in economy class to Asia since the airline provides if not the most comfortable coach airline seats. You will absolutely enjoy your air trip in the 18.5 inches wide seat that also has a 32 inches long pitch.  
3. JetBlue Economy Seats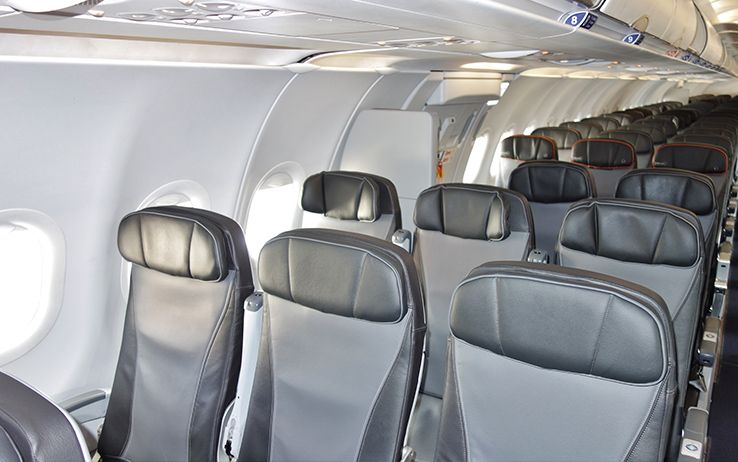 With their Even More Space project, JetBlue provides, if not the largest seats, and the widest pitches in the industry. The seat pitch is, on average, 38 inches long, and the seat itself is 18.25 inches wide. Even More Space seats can be found on the brand new A321neo (7/27 rows), A320 Restyled (7/27 rows), A321 Classic (7/34 rows), A320 Classic (7/25 rows), and Embraer E190 (3/25 rows). Standard economy class seat pitches range from 32 inches up to 35 inches which is fairly enough, even for transatlantic routes.  
Additionally, JetBlue has been crowned for the best economy airline seats, according to the travelers' choice. Eventually, you can travel with comfort, with JetBlue.
4. Lufthansa Economy Seats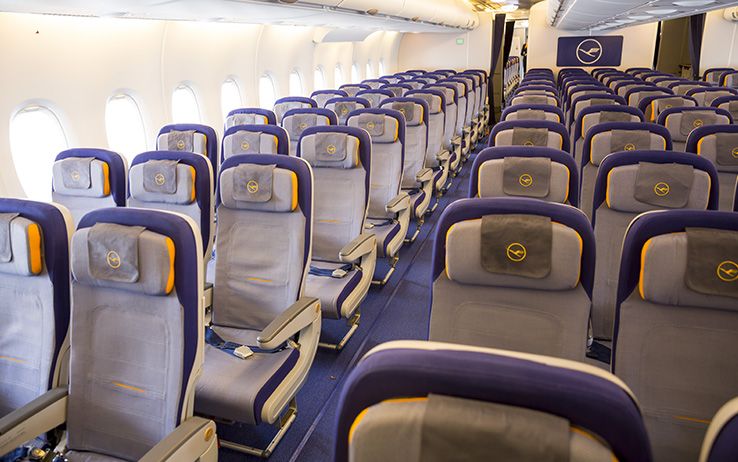 Economy class seats in Lufthansa's aircraft are convenient even for long-haul flights since the seat pitch is ranging between 30.7 and 31.9 inches. Lufthansa seat width constitutes 17.3-17.7 inches, which allows air passengers to enjoy their flight.
Here's a look at how premium economy cabin in Lufthansa aircraft is looking like. This is pretty!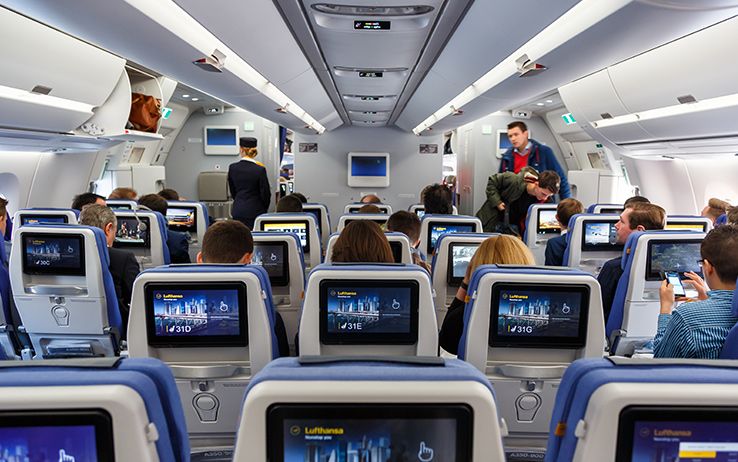 5. Hawaiian Airlines Coach Seats
The entire cabin is designed with Hawaiian lands in mind. Look how gorgeous it looks! Even flight personels' attire embed Hawaiian motifs.
Just like Hawaiian First Class Seats, the coach embeds Hawaiian motifs, which add to the pleasant atmosphere. What about the seats, you get up to 18 inches of seat width and a 32-inch pitch. In conclusion, the Hawaiian Airlines economy class is worth the ride.
6. Singapore Airlines Economy Class Seats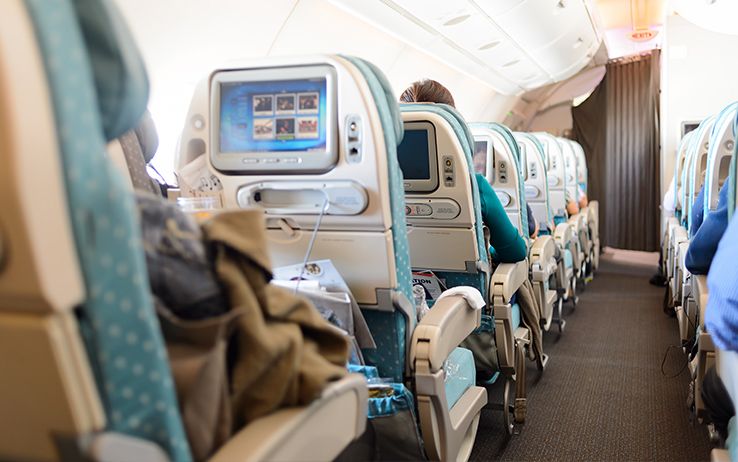 On every aircraft operated by Singapore Airlines, no matter what seat configuration is adopted, economy class seats have a 32-inch wide pitch (not including the extra legroom seats). This is fairly enough space to get your legs stretched and move around. What about Singapore Airlines seat width, it ranges between 17.9-18.5 inches (on Boeing aircraft) and 18.6 inches (on Airbus aircraft).
7. Air New Zealand Economy Seats
When flying internationally, especially long-haul, you are provided with a 17.2-inch wide seat, which is fairly enough to be comfortable in your seat during the whole flight. You also have sufficient room for your legs since the seat pitch is about 31-33 inches long, depending on the aircraft type.
Plenty of airlines provide an upgraded economy class and usually call it "Premium Economy." Here's a look at how Air New Zealand's Premium Economy cabin is looking like:
8. Spirit Airlines Economy Seats
So, what in reality do you get when flying in Spirit Airlines seats? The truth might be unexpected if you've never flown with Spirit since the seat pitch is quite narrow and measures about 28 inches. The seat width is at least nice, as it constitutes 17.75 inches.  
9. Qantas Economy Seats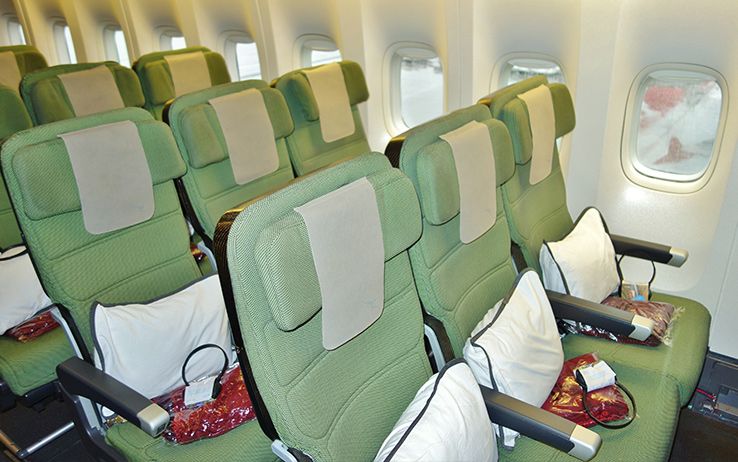 Qantas' A330-300 and B747-400 feature 17.5 inches wide seats and A380 aircraft - 17.8-inch wide ones, which is higher than the average values. Also, the seat pitch is 31 inches long, which adds to the comfort in the economy class.
10. British Airways Economy Seats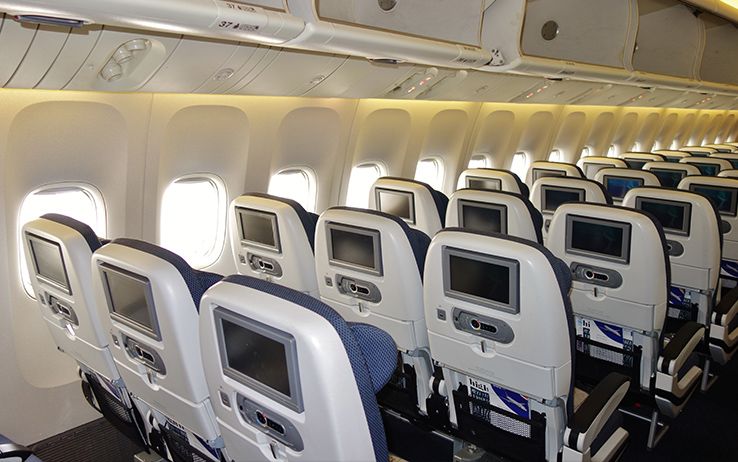 It is to be noted that the international economy class is named World Traveller by BA. Since the seat pitch is slightly bigger than the average ones (31 inches), and the seat width is 17.5 inches, you can be sure that your flight with BA will be at least acceptable.
11. Delta Economy Seats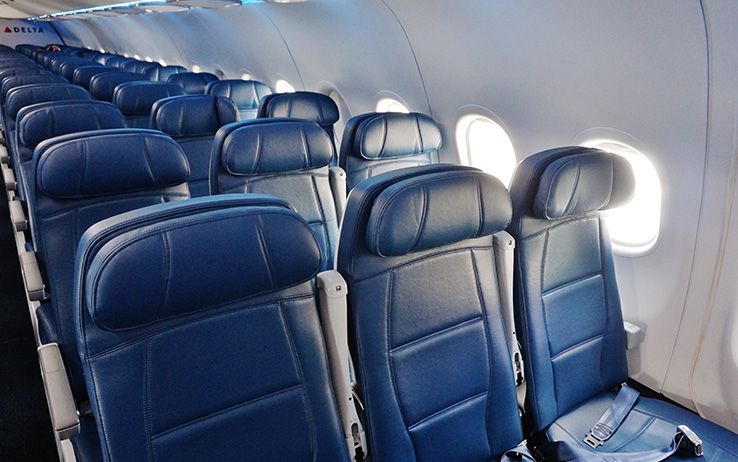 The seat features in the main cabin differ according to Delta plane types, so you get to keep an eye out for the aircraft you'd be flying with. The seat width varies between 17.2 and 18.6 inches. The seat width is also variable, ranging from 31 to 33 inches.
12. Air Canada Economy Class Seats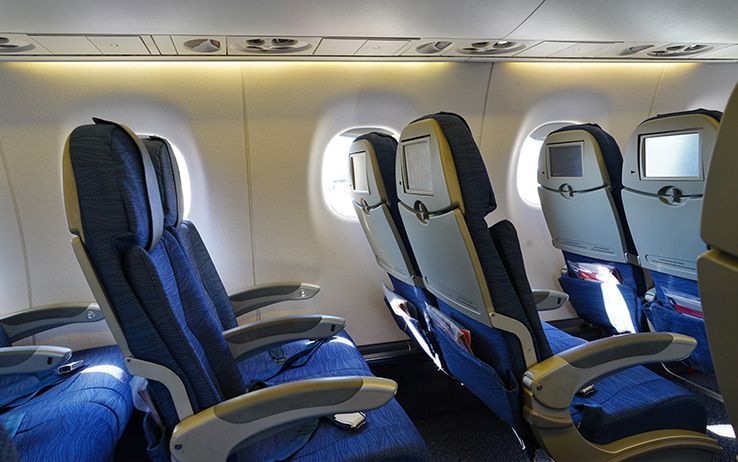 Depending on the type of flight you take (domestic or international), economy seats are various. Seat features also differ among the aircraft model. In numbers, the seat width ranges between 17 inches (for instance, B787-8) and up to 18 inches (on most aircraft like A330-300, A321-200, or A319-100). What's for seat pitch, it varies between 29 inches (as an example, A319-100 operated by Air Canada Rouge) and 32 inches (for aircraft like B767-300ER, A330-300, and A319-100 operated by Air Canada).
These were standard seat pitch dimensions, but every Air Canada aircraft is equipped with preferred seats which get up to 4 inches more compared to standard seat pitch length. So, several economy class seat pitches can measure around 36 inches in total.
13. Emirates Airlines Economy Class Seats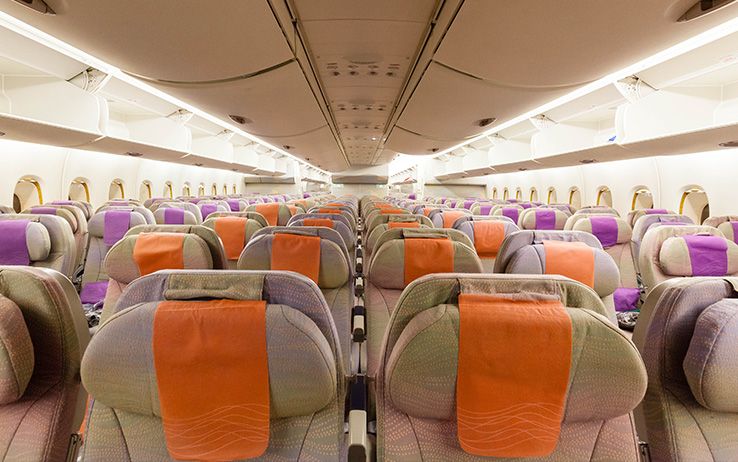 Emirates Airlines seats are quite generous, the width ranging between 17 and 18 inches. The seat pitch is also amazing, the standard seats having 32-33 inches, depending on the aircraft (the maximum standard pitch is provided by A380-300). Many who have been traveling with Emirates say that these airlines might have some of the best international economy seats.
14. China Airlines Economy Class Seats
If you travel to Asia, you should know China Airlines legroom measurements and seat width, so you know what to expect and what seat to choose. The seat width varies depending on the aircraft type from 17 inches up to 18 inches. The same applies to seat pitch hence it is ranging between 31 and 32 inches.
15. Virgin Atlantic Economy Seats
Here's a rear look. International economy class is perfectly equipped with personal displays to keep air passengers entertained.
To the delight of air passengers flying with Virgin Atlantic, the seat width is ranging between 17-17.4 inches in economy class. Most of the seats have a pitch of 31 inches, which is good too. As you can see, the values are higher than the average ones, so you may find Virgin Atlantic economy seats fairly comfortable.
16. Alaska Airlines Economy Seats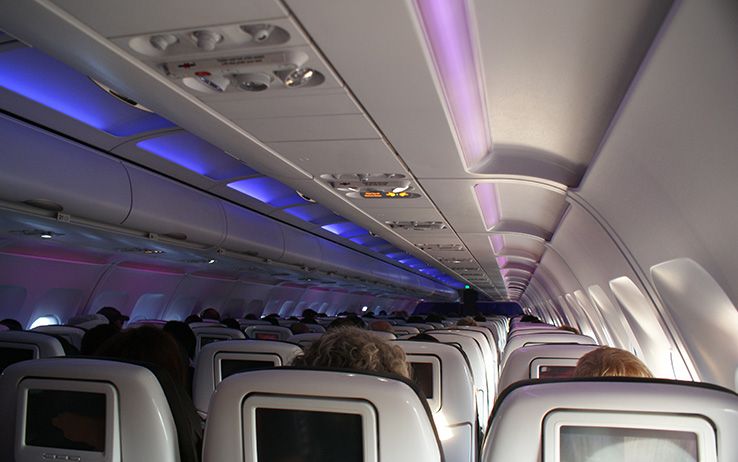 Alaska Airlines has a whooping 332 aircraft fleet of Boeing, Airbus, Bombardier, and Embraer families. No wonder every single plane has coach seats on them since many air passengers travel in these. Hence, a high level of comfort is sustained by wide 17-inch seats and average 31 to 32 inches pitches.
17. Frontier Airlines Economy Seats
Though the standard seat pitch is 28-31 inches (sounds unimpressive, huh?), you can book the Frontier Airlines stretch seating, which is 5-7 inches longer (now that's better). But if you compare it to other airlines' seat pitch, you can tell these might not be the comfiest ones. The minimum seat width is 16.5 inches (found on A321) and the maximum - 19.1 inches (only the middle seat on A319, A320, and A321).
18. American Airlines Economy Seats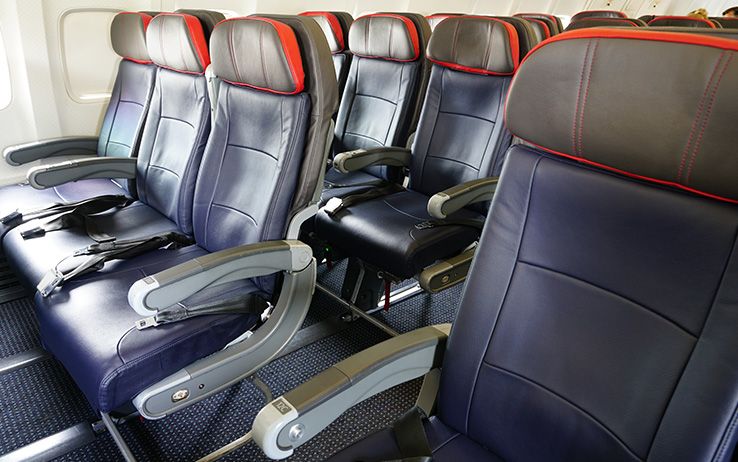 American Airlines seat pitch is average, but in some cases, it can be difficult for some air passengers to have a comfortable long-haul flight, as the pitch ranges between 30 and 32 inches. Though these values are not so impressive, the seat width is the same, as it measures 16.5-17.5 inches on average.
19. United Economy Seats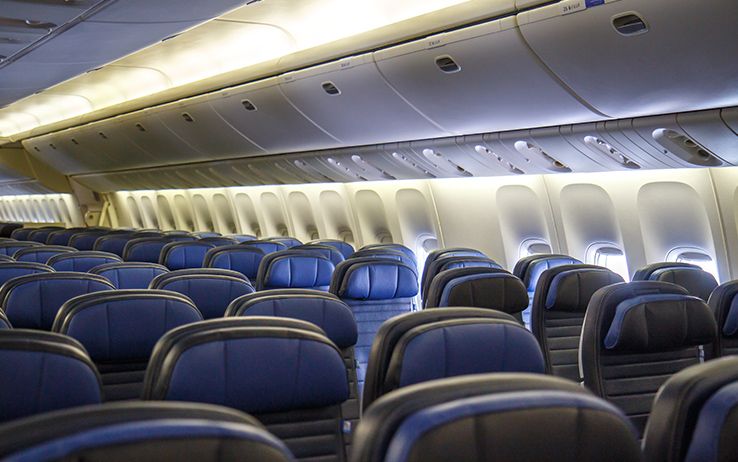 The United seat pitch in economy class is ranging from 30 inches up to 32 inches, the average pitch on most of their planes being 31 inches long. The seat width is also variable, and it begins at 16 inches but ends at 18.5 inches. The average width is 17 inches, on most of their aircraft.
20. ANA Economy Class Seats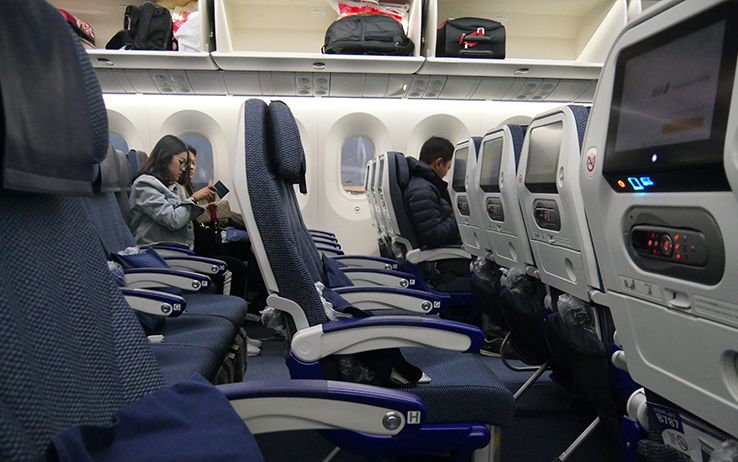 If you lift the armrests and book 4 seats like shown below, you can travel with the business class' comfort. Look at this happy man!
The new design of ANA economy class seats offers a longer pitch that totals 34 inches. Some older aircraft types (like B767-300ER and B787-8) have a seat pitch that measures around 31 inches. Since the width of the seats on economy class flights is around 16-17 inches, you can tell that these are quite narrow.
Pay an additional fee and get the innovative ANA COUCHii, which showcases seats that can be transformed into a single couch seat. The raisable leg rests help the seats get changed into a comfortable bed. These seats can be found only on A380 aircraft, so look out for it when booking tickets.
21. Southwest Airlines Seating in Economy Class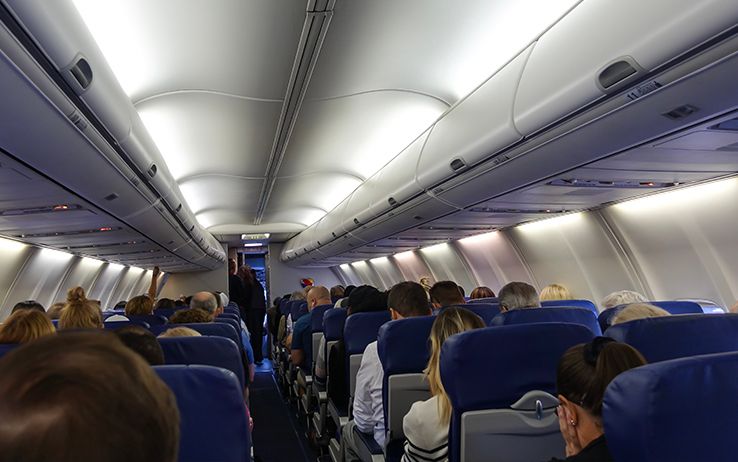 Southwest Airlines legroom measurement is on average 31-32 inches, which is higher than the average measurements (which is 30 inches for economy class seats). Seat width isn't impressive since it ranges between 15.5 and 17.8 inches. Though the values are not as scary as much, the flight might not be the comfiest one if you travel in a 15.5-inch wide seat.
Before you proceed to our final thoughts, here's a list that can help you visualize the numbers better. Keep in mind that the list is created by the minimum seat width, and the higher rank is given to the biggest seat pitch if the values are identical.
Airline | Seat width | Seat pitch
Japan Airlines SKY WIDER | 18.9" | 33.8"
Cathay Pacific | 18.5" | 32"
JetBlue Even More Space | 18.25" | 38"
JetBlue Standard | 18.25" | 32-35"
Lufthansa Premium Economy | 18" | 38"
Hawaiian Airlines | 18" | 32"
Singapore Airlines | 17.9-18.6" | 32"
Air New Zealand Premium Economy | 17.8-20" | 38-41"
Spirit Airlines | 17.75" | 28"
Qantas | 17.5-17.8" | 31"
British Airways | 17.5" | 31"
Japan Airlines | 17.5" | 31"
Lufthansa Economy | 17.3-17.7" | 30.7-31.9"
Air New Zealand Economy | 17.2" | 31-33"
Delta Airlines | 17.2-18.6" | 31-33"
Air Canada Preferred Seat | 17-18" | 36"
Air Canada Standard | 17-18" | 29-32"
Emirates Airlines | 17-18" | 32-33"
China Airlines | 17-18" | 31-32"
Virgin Atlantic | 17-17.4" | 31"
Alaska Airlines | 17" | 31-32"
Frontier Airlines Stretch Seating | 16.5-19.1" | 32-38"
Frontier Airlines Standard | 16.5-19.1" | 28-31"
American Airlines | 16.5-17.5" | 30-32"
United | 16-18.5" | 30-32"
ANA (All Nippon Airlines) | 16-17" | 31-34"
Southwest Airlines | 15.5-17.8" | 31-32"
Final Thoughts About Economy Class Seats
Since most of your comfort level depends on the seat you take during a flight, it is good to know its features. Hence, the seat pitch and the seat width can tell great seats and bad ones apart. Though it is hard to know which the best economy airline seats are from this point of view (the service level, other inflight facilities, and amenities are influencing on a specific airline flight), the above-mentioned values will help you make the right choice (if these are your priority).
Keep in mind that every parameter and its values differ from airline to airline and from aircraft model to aircraft model. Hopefully, you found out something new, and know you know what airlines to avoid and what to fly with. Also, leave a comment in the comment section below about your best air travel experience, and if you have it, the worst one. We are always happy to read your interesting stories!
Last Updated on February 3, 2020.