Nowadays, food is not only perceived as a way to appease hunger but more as an art, way of self-expression, and culture identification. That's why travelers enjoy exploring the cuisine of a particular region, and like admiring and tasting its various meals, starting with easy meals and finishing with intricate traditional dishes.
We'd like to introduce you to diverse cuisines around the world, so you think about what destination to choose for your next vacation. And if you've tasted them in the US, maybe it is time to visit their origin? Watch out! Mouth-watering content beneath!
Spanish Cuisine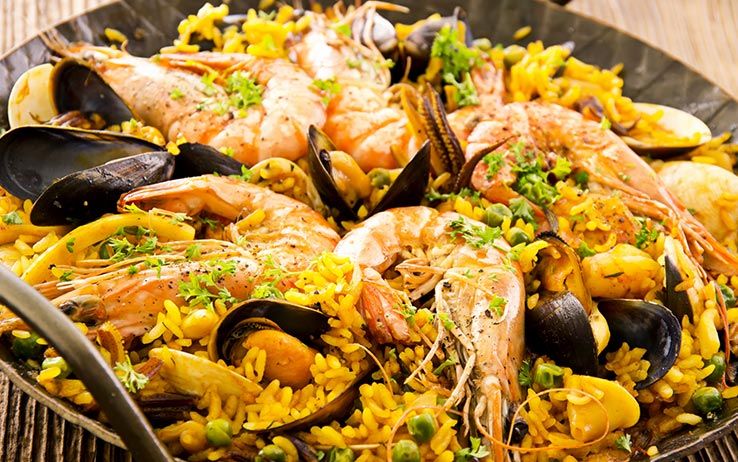 Seafood Paella
Paella rice has become a staple in Spain. Every respectable tourist has to try at least one seafood paella while on his tour to Spain. But before you enter the first Spanish restaurant and order this dish, make sure they offer the real deal. Remember, a traditional Valencian paella has in its recipe plenty of mussels, lobsters, shrimps, and fresh herbs. There is no chicken or pork in the traditional recipe. Enjoy the dish with a glass of wine and a deep breath of breezy air.
Tortilla de Patatas
Beforehand, Tortilla de Patatas must not be confounded with the Mexican tortillas. Also called tortilla española, this popular food in Spain is a thick potato omelet. Though there is a wide range of variations, the original recipe includes potatoes, onion, and eggs, seasoned with salt and pepper. The tortilla is usually served sliced and with a piece of toasted tomato bread.
Thailand Food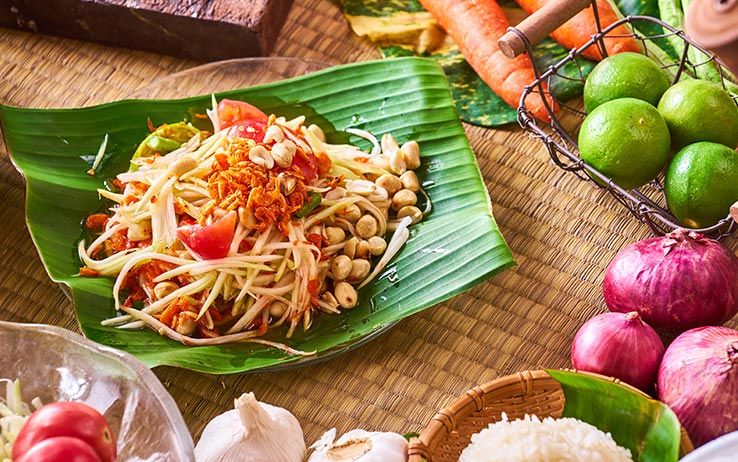 Som Tam
The famous Thai salad can be prepared at home, but only in Thailand, you'll be able to watch it cooked and feel its traditional taste. Som Tam includes ingredients like garlic and chili to offer it a bit of spiciness, tamarind juice, fish sauce, lime juice, and sugar cane paste for a sour-sweet taste, peanuts, dried shrimp, tomatoes, string beans and, of course, grated green papaya as main ingredients. That's simple as that, but the salad gets an instant lift somehow when you eat it in Thailand. Probably because the locals mastered it to perfection.
Tom Yum Goong
If you think soups are not your thing, you should try Tom Yum Goong. This masterpiece of Thai cuisine should be on your list of things to try in Thailand because it is an exquisite combination of ingredients and distinguished Thai flavors: salty, sweet, sour, and spicy. And if you think you'll have to drop a whole lot of money for it, you might be surprised to find how cheap it is.
By the way, if you travel on a budget, you might be delighted to save on other things, for instance, your plane tickets. Wowfare.com is a wonderful choice if you decide to cut down your expenses on your travel to whatever point on the world map.
Would you like to recieve amazing and cheap airfares upon request?
Try
UAE Food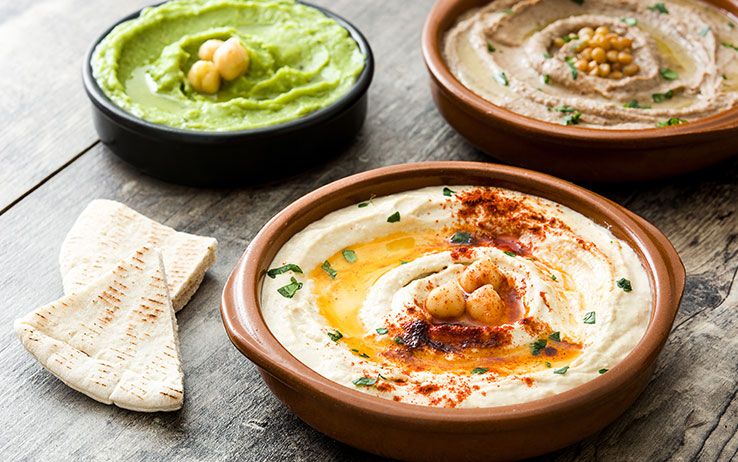 Hummus
The country's famous dish, Hummus, is well known all over the world for its value in the vegan food range. It already became a fridge staple for anyone, as it works well both as a main course and a dip. Made of chickpeas, tahini, lemon juice, and garlic, the Emirati food can be served with vegetables, meats, bread, beans, and perhaps there's something else on your mind. Comment below how do you prefer your Hummus.
Kabsa
Originally born in Saudi Arabia, Kabsa has spread across the Arabic countries and became a traditional dish in Emirati cuisine. There are so many different versions of Kabsa out there you might try several of them if you travel to the United Arab Emirates. Nonetheless, the main ingredients include rice and various spices that give the dish its distinctive spicy taste.
Italian Cuisine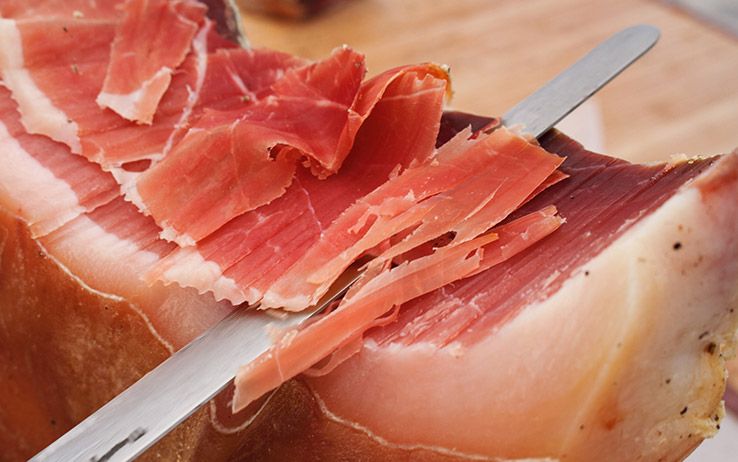 Parma Ham
Dreaming about an enjoyable and practical thing you could bring home from your trip to Italy? Maybe consider taking a piece of parma ham and enjoy an Italian-style meal with your family or friends. It might sound wild, but its methodology of preparation preserves the meat and makes it transportable friendly. We're not even starting to describe how delicious this Italian food is! These perfect thin slices go well with anything and can lift any dull dish.
Lasagna
Can you imagine Italian cuisine without lasagna? Probably not. It's not a surprise this dish is so famous not only Italy but also across the globe, as it combines pasta layers, minced meat, and tomato sauce that might satisfy taste buds of any kid and adult.
Traditional Food of UK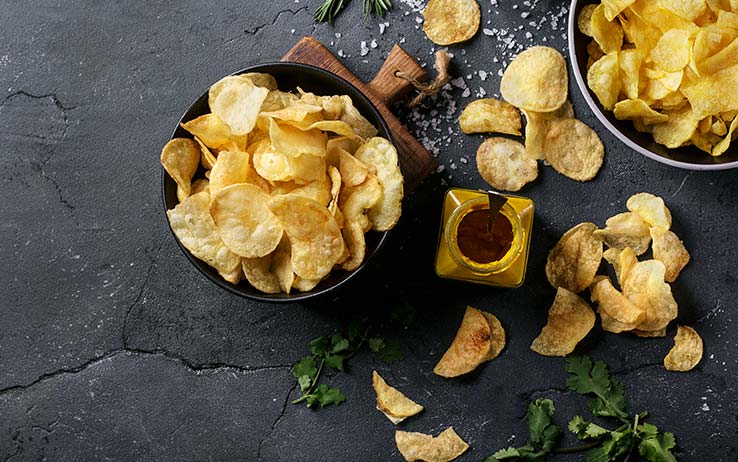 Potato Chips
Another food staple on the list, but this time, a British one! The adored snack of millions, both by children and adults, has its origins in the UK and has been spread around the globe at a fast pace ever since. It is so popular that there are extreme varieties of it, but the original taste can be found in the UK.
Fish 'n' Chips
Not one of the most healthy meals, but absolutely delicious, Fish'n'Chips is a must-eat when visiting the UK. Once a working-class meal, the dish can do no wrong as it was around since the 1860s.The crunchy outside and soft inside is a delicacy for any kid and adult.
Russian Cuisine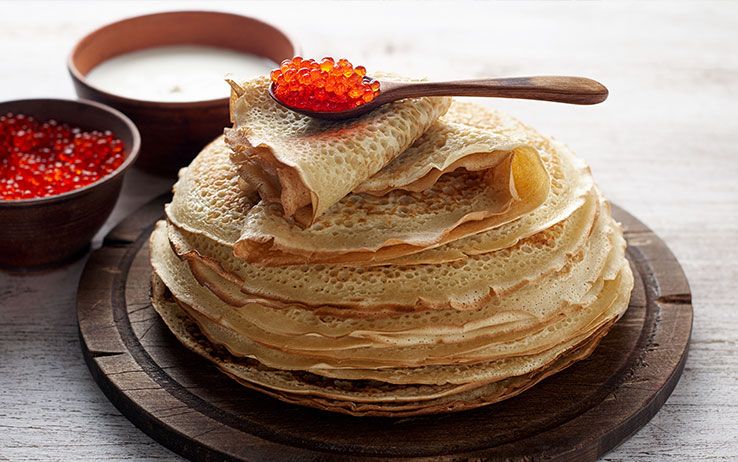 Bliny
An absolute staple for the Russian cuisine and a must-have at any Maslenitsa festival, bliny are a Russian type of crepes that are thin and big. The dish can be suitable for any taste as it can be served with sour cream, jam, meat, vegetables, honey, and the most common one, with a bit of butter and caviar.
Kasha
There's nothing like a kasha. This dish might impress with its simplicity and tastefulness. This type of healthy meals is a wonderful side dish that can be served with both vegetables (for a vegan meal) and meat.
Singapore Food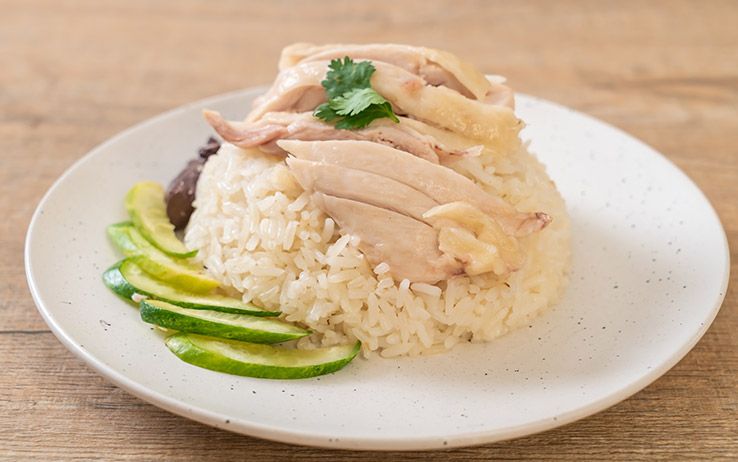 Chicken Rice
The most served and the best Singaporean food is none other than chicken rice. The boiled or steamed chicken is laid on a freshly prepared rice with a slice of cucumber. To give the meal that extra oomph, it is garnished with powdered ginger, chili and garlic sauce, or soy sauce. In case you are not a fan of boiled chicken, you may find variations with grilled chicken or soy sauce chicken. Wherever you might be in the world, this dish is tempting to visit Singapore and experience its original taste.
Chili Crab
You can't leave Singapore without trying its food bestsellers. One of them is the chili crab. There are so many types of preparing crab, but this one has become a staple for both locals and tourists. The chili flavor brings out the taste of the crab and might delight your taste buds.
Canarian Cuisine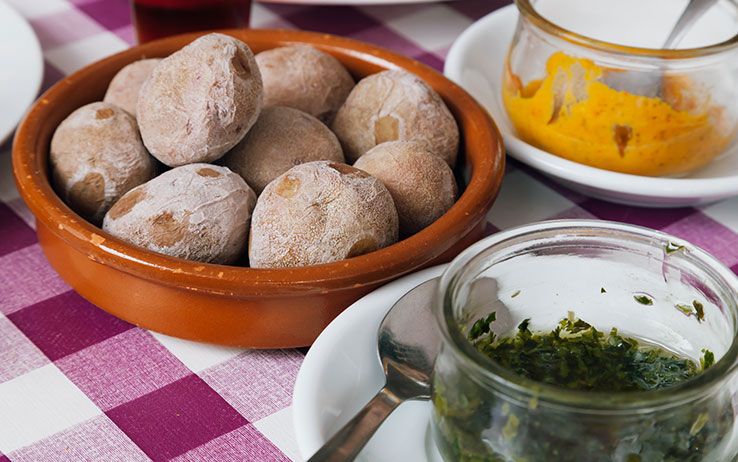 Papas Arrugadas
Since potatoes were introduced to the Canary Islands in the 1600s, it is obvious that at least one traditional dish has to have potatoes in its recipe. One of them is Papas Arrugadas, which is a fairly easy meal as it includes only small potatoes and coarse sea salt. The dish goes well as vegan food and can be served with another traditional Canarian specialty - the mojo picon - a type of sauce.
Almogrote
It is one of those foods that can't be overlooked on the Canary Islands. The delicious tomatoey-garlicky taste and the appetizing grated cheese go well along with each other and make a great paste that can be spread on the morning toast.
Canadian Dishes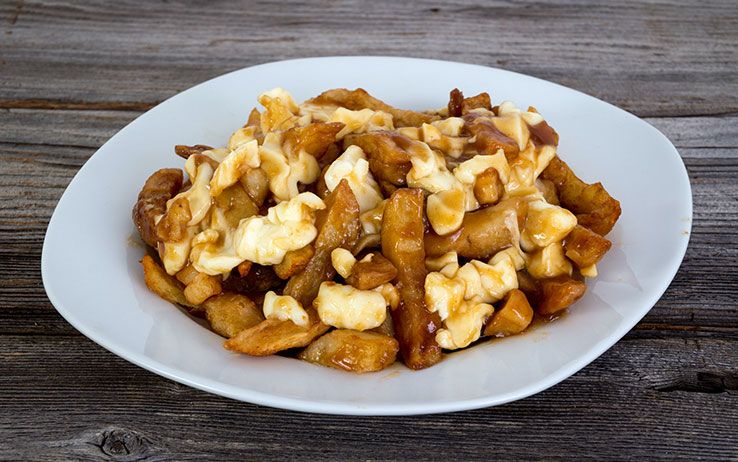 Poutine
The mix of french fries, cheese curds, and brown gravy might sound disgusting, what's more, it doesn't look better, but Canadians say its taste is a whole lot better than its looks. The locals advise serving it along with a couple of beers.
Maple Syrup
When thinking about food around the world, you might be thinking about maple syrup when you have in mind Canada. The syrup is an incredible addition to any dish (you might be experimenting with it a bit to check your favorite combination). Undeniably, the primary use of it is over a stack of pancakes. And we totally appreciate it!
American Food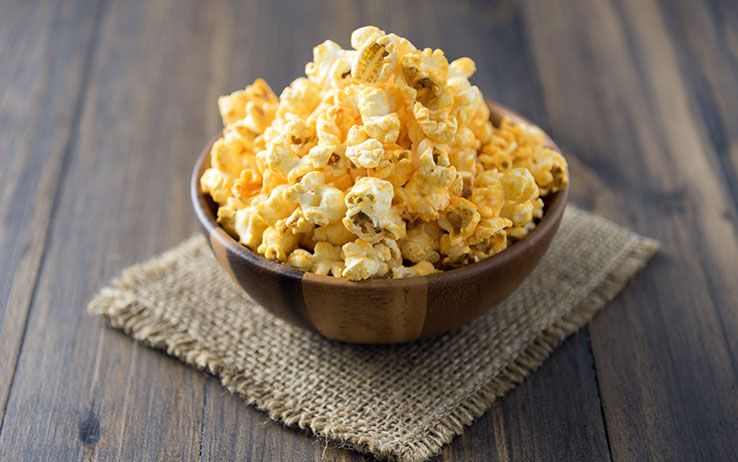 Buttered Popcorn
It's not a surprise popcorn made the list, as it is highly consumed not only in the US but also all over the world. No movie can be watched without a large basket of popcorn, and that's absolutely fair.
Donuts
These delicious fluffy wheels of dough can't have too many positive adjectives describing them. Donuts are a worldwide sweet treat that totally captivated our hearts and added to that naughty fat rolls on our hips. Nonetheless, the taste is worth it!
Indian Cuisine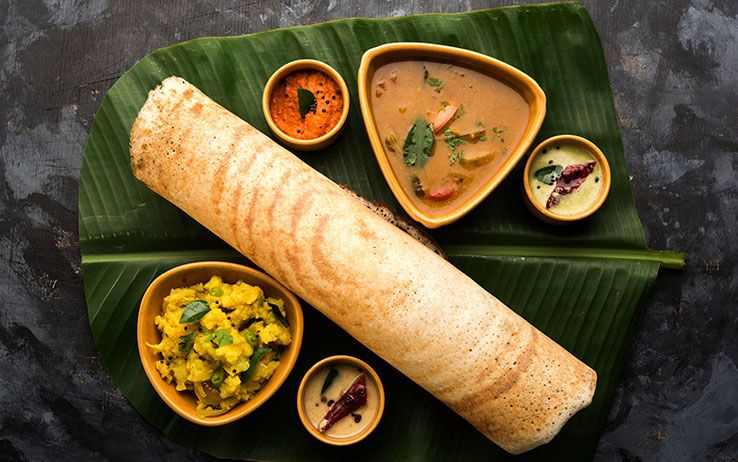 Masala Dosa
Wishing for an Indian-style breakfast? We totally understand why. Masala dosa is an excellent choice for any morning meal as it is equally tasty and healthy. The crispy rice crepe with the mashed potatoes filling and a coconut-tomato-lentil sauce will appease your hunger and intrigue your taste buds.
Butter Garlic Crab
Another crab meal on the list, another style of its preparation. This time, an Indian-style. If you are really fond of the crabs, why not taste it in every country where it is served? The dish is so simple it might get you shocked how tasty it is. The secret weapon is the butter-garlic sauce that covers every inch of the crab flesh. It sounds equally mouth-watering as it looks!
Mexican Food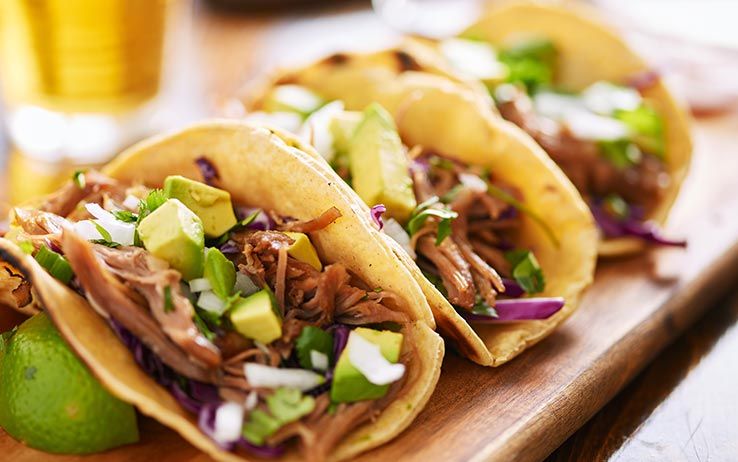 Tacos
Guess what's one of the most known meals around the world? You're right, it's Taco! Whether filled with beef, chicken, or pork, these little treats of corn tortillas, onion, meat, herbs dipped in salsa or guacamole sauce can work great in the morning, during lunch-time or as dinner.
Fajitas
Another Mexican food staple is fajitas. This DIY-style food is the favorite of the millions since it can be assorted individually. The grilled meat and vegetables, along with flour or corn tortillas, make a great family dinner and an astonishing party meal.
Japanese Cuisine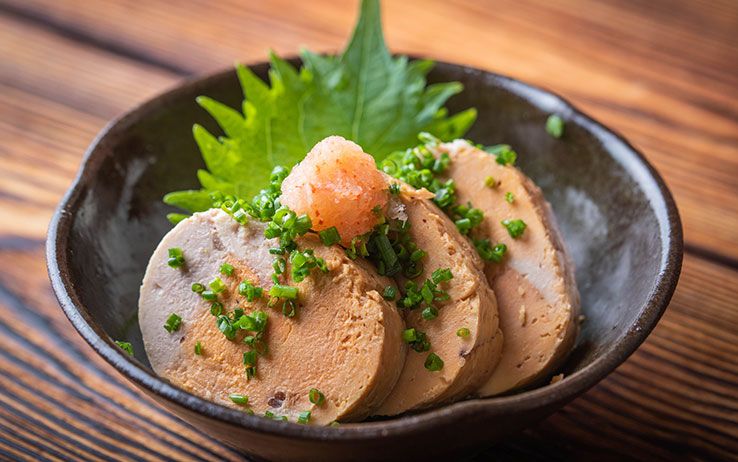 Ankimo
Let's get straight to the topic. This monkfish/anglerfish liver delicacy might be completely gone in a short time due to their gradual extinction. So if you stumble upon it, give it a try. Its light and pleasant flavor might delight you.
Ohmi Wagyu Beef
Known as one of the most expensive beef, ohmi wagyu beef is highly demanded in Japan, making it the reason to get on a plane and travel to the Japanese lands. The "Rolls-Royce" of beef is a mouth-watering sensation served sliced, drizzled with kaffir lime, and green tea sea salt.
Last Updated on November 20, 2019.